Radon is naturally occurring gas that forms when uranium, radium and thorium break down in rocks, soil, and groundwater. This gas cannot be seen, tasted, or smelled. This gas can build up in homes or buildings and over time, breathing in the high radon levels can cause lung cancer.
Radon gas can be tested for and if high levels are detected, there are steps to take to fix it.
Get radon testing:
Test kits are available at many local hardware and building stores. 
Tests can be arranged through the services of qualified radon mitigation professionals.
Test kits can be purchased at WCHD by calling 815-720-4100. These short-term radon test kits are available for a discounted rate of $10 per kit. The cost of each kit includes return postage and certified lab analysis. Special during the month of January: get your radon test kit for $8.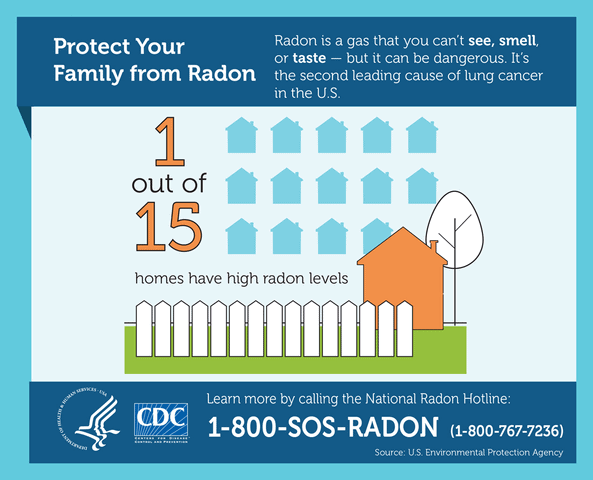 All homes should be tested for radon. Nearly one out of every 15 homes in the United States is thought to have high radon levels. High radon levels can be found anywhere in any state. In both old and new homes, those with and without basements can have radon problems.  Even houses next door to each other may have very different radon levels. The only way to know for sure if you have high levels of radon is by testing your home.
How Does Radon Enter A Home Or Building?
There are many ways radon can find its way into your home or building:
Cracks in solid floors
Construction joints
Cracks in walls
Gaps in suspended floors
Gaps around service pipes 
Cavities inside walls
The water supply
Radon in Soil – Radon gets into the indoor air primarily through pores and cracks in the soil under homes and other buildings.  Because the air pressure in homes and buildings is generally lower than the pressure in the soil around or underneath the foundations, the difference in pressure creates suction. Radon will come through cracks, even at low levels due to the suction.
Radon in Water – Radon gas can be present in water that comes into your home.  If your home's water supply is from underground sources, such as wells, radon can escape from the water during everyday activities such as drinking, washing dishes, cooking, and showering.  If radon is present in the water coming into your home, these everyday actions can make a small contribution to the radon gas present in the air in your home.
What Happens If My Home Has High Levels of Radon?
Testing is the only way to know if there are high levels of radon gas in your home.  If the results of your test show high levels of radon gas in your home, there are steps you can take to reduce the levels, such as having a radon mitigation system installed in your home to disperse the radon gas, reduce exposure, and protect the health of you and your family.
Additional Resources on Radon?